100% Online Graded Courses For All Grades – Live and Self Paced For All Ages
Existing Curriculum Integration and More
SKrafty not only has classes but we also have an awesome
Minecraft gaming server.  Parent moderated and chat filtered!
About Us
SKrafty is run by the Syx Family from Alabama! We have a large family with 5 sons and a daughter who homeschool and also love to play Minecraft.
Minecraft Adventure
Every lesson in each course includes a Minecraft Build Adventure!
Our First Mission
One of the advantages of homeschooling is being able to integrate education with things our children love. We want to take advantage of this excitement they have to play Minecraft. While our courses are great without the Minecraft Build Challenges we encourage you to use the Minecraft homeschool feature and mold it into an immersive learning experience with each course.  Have fun homeschooling with Minecraft!
Our Second Mission
To create an awesome gaming and online community which is wholesome and fun! This has become not only our mission but also the mission of many SKrafty parents who help us moderate and coach children daily.  That plus our automated filters makes our Homeschool Minecraft Server the most heavily moderated Homeschool Minecraft Server in the world.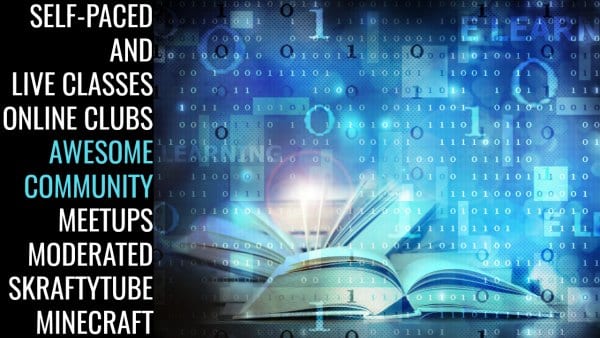 Whether you want to use Minecraft as a virtual experience to your lessons or not our online courses are rich in content and automatically graded.  The cost of the classes are very low to make it affordable to large families but don't let that fool you.  The content is great and you can mix in Minecraft to create an awesome experience.
About The Classes
Most all of our classes are built as self paced and never close or fill up. They are broken down by weekly lessons and include automatically graded quizzes. They earn badges as they progress through the weeks and also earn in game rewards. There is a Minecraft Adventure Build for each lesson that they do in our class servers. The builds are to further enrich the learning experience.
Using Minecraft To Create An Immersive Experience
For example if you are going through Narnia, the server is setup so that they can be the characters in the book and they get to build in Narnia as well. If the class is Mystery Of History and you are learning about Ephesus you might have an Ephesus Theater build. You get to walk around and virtually be in the colosseum.
Our Courses Are Fun For All Grades
The age level for the classes range from age 5 through high school. There is something for everyone. With our subscriptions you will get access to all of the classes, half off our birthday parties and our online summer camp.
Building Assignments Are Fun!
Build assignments with friends and family to make it an even more fun experience. Think of it as virtual lap book that they can navigate through 3 dimensionally.
Unlimited access to entire library of ALL SKrafty classes.
BONUS: 50% off SKrafty Minecraft Birthday Party for subscribers
BONUS: Parental Control
Live and Self Paced Online Classes
Quizzes and more…
In game rewards for doing chores at home!  Parents get a special code each day to reward their children with SKrafty Nuggets for completing chores at home!  Use Nuggets to purchase keys to open treasure chest filled with fun hub perks!
Gives the player awesome in game perks in game and a prefix beside their user name. Your Rank-Up keeps SKrafty going and allows us to continue the development, maintenance and support that keeps the server kid friendly.
Do you want to get some of your friends together on your own private SKrafty server?  Players will enter SKrafty and then move over to their very own private server.  You will have Owner commands and a special menu.  Your server will have the same built-in chat filters and moderation as all of SKrafty.
Groups and Co-oops can use their server as a place to get together during the week and work on educational projects together or just have some fun.
Rent our birthday party servers to host your own SKrafty Birthday Party on SKrafty!  You will be the host with special menus and you and your friends will enjoy our Birthday Party Games!
Freeze Tag
Coasters
Mazes
and more…
CO-OP/HOMESCHOOL GROUP SPECIALS
Co-op members with 10 or more students are eligible for a discount on any SKrafty EDU subscription.  The Co-op teacher can go through the lesson with the students, and students can complete the Minecraft activities at home throughout the week on the SKrafty server or in their single player worlds.
What are people saying about SK?
My son has always loved Minecraft, but after finding Skrafty and their awesome classes, his love has multiplied greatly. He can't wait for his new lessons to be posted each week. The creativity of the Skrafty team and the ideas they come up with for classes are awesome. He can't wait for classes to start.
Denise W.
Since we started on our Mnecraft journey, the kids have talked about playing on servers with other kids. I did the research, and was less than happy with what I saw. One day I was checking my email, and one of my Homeschool subscriptions had a write up about Skrafty being a great place for kids to play, so I looked into it. Everything I read was exactly what I wanted for my children! A Christian group, monitored chat, and a family who understands kids! I signed up right away! Now all three of us play!
Weslee R.
We have tried other kid friendly/homeschool minecraft servers and classes but we always come back to SKrafty for all minecraft server needs! I appreciate the quality of this server because it attracts tons of players for my sons to engage with, while also maintaining a safe atmosphere that is protective of these kids. I feel like I can confidently trust the SKrafty server with our children's hearts while they play… I don't feel the need to hover or monitor my son while he is playing because the rules in this server are followed. We are also glad for the time the creators of this server have put into all the wonderful classes SKrafty has to offer! 🙂 So far my kids have enjoyed all their classes here!
Shanon P.
SKrafty has been a huge blessing to our family!!!! My son with dyslexia is not only learning but enjoying learning!!!! His reading and writing have developed more with SKrafty than any other program we have used. The classes are engaging because they are so hands on and truly turn learning into an adventure. He really likes that he can work on a project as long as he likes, because some projects engage him so much, he wants to take his time and do them "right". (some servers there are time restrictions on the builds). The entire SKrafty server is great and teaching both of my boys how to get along with others and work as a team. I love that there are other parents on, and help guide the kids and help bring out the best in them and the kids aren't allowed to get away with being nasty to each other. Although kids do make mistakes, there is always an adult to help show them the Christian way to handle the situation and turn mistakes into learning opportunities. Finally, the customer service is the best around. The FB page allows immediate feedback to any problems the arise and I don't think I have had to wait more than 15 minutes for an answer. I so highly recommend SKrafty!!!
Caroline D.