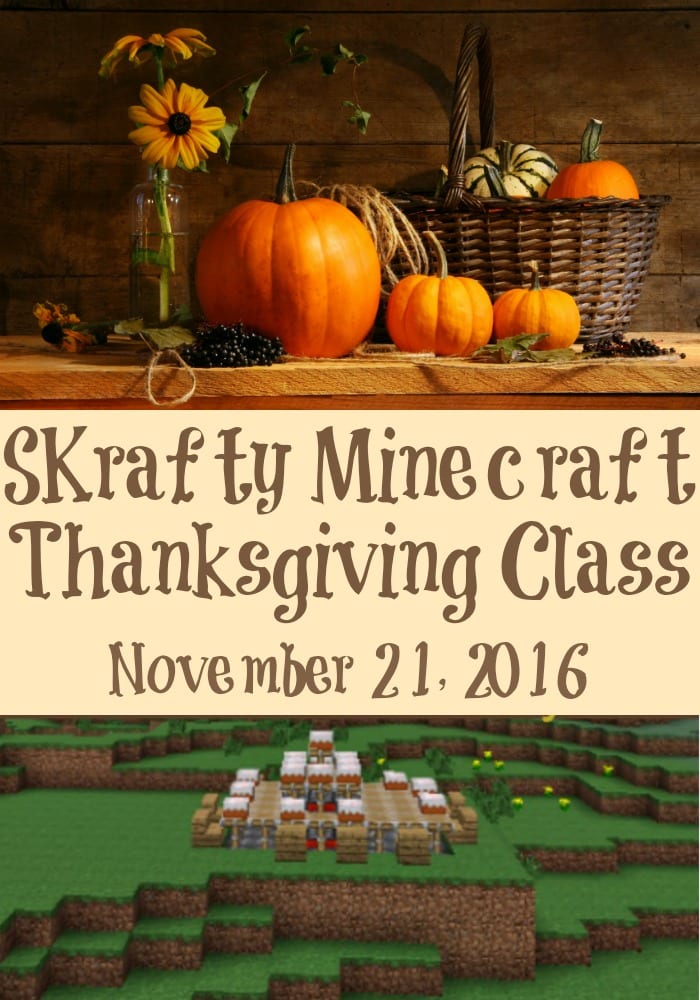 We did this class the last 3 years, and so many people enjoyed it.  We are so excited to be able to offer it again this year. SKrafty is hosting a Minecraft Thanksgiving Mini Class during the week of Thanksgiving.
Following are the details:
WHEN:
Live Class: Monday, November 21st, 2016 at 7:00 PM CST (Only 100 spots available for the live class)
COST:
Note: Subscribers will be able to access this class and all other classes at no cost.  Click here for information about a SKrafty EDU subscription.
Live and Self Paced Class – $9.99 [wp_eStore_add_to_cart id=209]
Note:  The self paced class will not include a Live Session.  Students will log in to edu site to get instructions, watch video lessons, and go through the course on their own time.
WHERE: SKrafty Homeschool Minecraft Server (Not playing on SKrafty yet?  Get Whitelisted here)
WHAT:  We will have the following:
Lesson on the history of Thanksgiving taught using Adobe Connect. (Not included in self-paced option, but video will be available)
Interactive tour of the Mayflower – Minecraft Style (This will include a video tour instead for students NOT on the SKrafty server)
Team Building Event.  Teams will travel to Plymouth and set up a colony.  Teams will have 2 weeks to complete their colonies.
Creation of a Thankful Sign Garden (Details to come)
Requirements:
Want to join us?