Price
$25 or Included With Subscription
At a Glance:
Cost: $25 or Free for SKrafty EDU Subscribers
Textbook: None
Age/Grade: K – High School
Teacher: SKrafty Created Course

Format: Live or Self Paced
LIVE  Meeting is on 11/22 at 6:30 PM Central;  If anyone can't make that we record it and they can still do the build activities on the Thanksgiving server over the next couple of weeks.
Minecraft Activities: Yes, optional
Graded: No
Number of Lessons: 1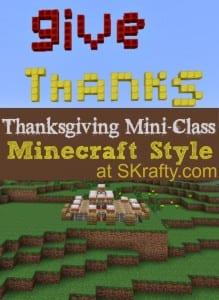 This 1 lesson class will teach the history of the American holiday Thanksgiving. This class includes a Minecraft adventure along with a quiz.