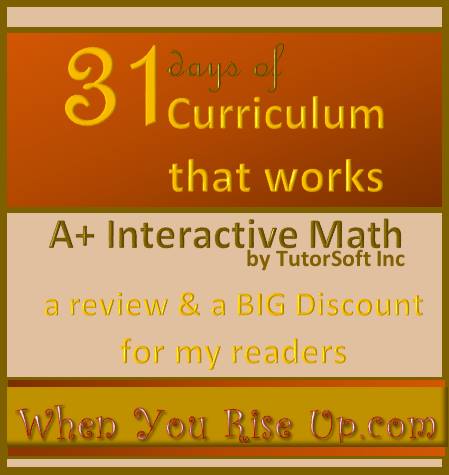 I don't know about you guys, but math is one of those subjects that I just really don't prefer to teach.  Give me a good history lesson any day, but math…ugh.  While it may not be fun to teach it is necessary, and also quite important!  I really want my children to have a good math foundation, but I don't like them having to do alot of repetitive fluff.
Continuing on with our theme of 31 Days of Easy to Use Homeschool Curriculum, I have to tell you about an excellent math program that we use.  A+ Tutorsoft Math is a wonderful math curriculum that is so super easy to teach.  Seriously, the student just logs in and completes the lesson.  Even my 1st and 2nd graders are able to complete their lessons with minimal help from me.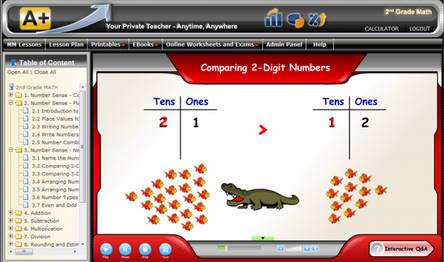 If you're looking for a math curriculum that is easy to teach, but very meaty then you will definitely want to check out A+ Tutorsoft Math.  It is completely computer based.  You can use it online or install it onto your computer with a CD.  I love the fact that we can choose to print out the practice problems or complete them online.  My younger kiddos definitely prefer to do the problems online, but the older boys sometimes prefer to work theirs on paper.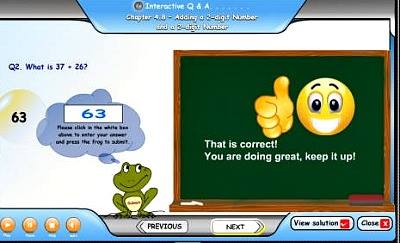 Another favorite time saver that I adore about A+ Tutorsoft is the fact that it keeps track of all the grades so all I have to do is print them out.  My 1st & second graders get a big kick out of the certificates they can print at the end of the lesson too.  It really gives them a sense of accomplishment.
Want to find out more about A+ Tutorsoft Math?  Check out their product online here.  You'll be able to sign up for a 30 day free trial if you'd like.
A+ Tutorsoft October Special for WhenYouRiseUp Readers
I'm so excited to be able to offer a great deal on this wonderful program for you all.  Right now A+ Tutorsoft is running a great special where everything is on sale at an awesome price.  A+ Tutorsoft is also offering my readers an EXTRA 40% off the sale price of EVERYTHING except for printed books.  If you are thinking of using this curriculum you'll definitely want to grab this deal.
Here are some of the prices you'll get:
Monthly Access is on sale for $10 – use code RISEUP to get it for only $6.00
3 month Access is on sale for $25 – Use code RISEUP to get for only $15.
Yearly access is on sale for $99 – Use code RISEUP to get it for only $59.40.
Really you can't beat that price for such a great math curriculum!
This post contains affiliate links.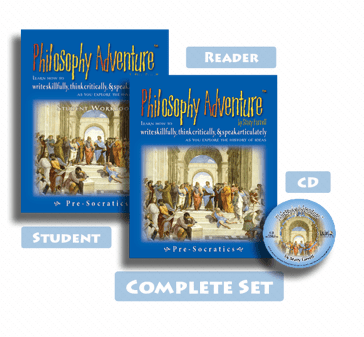 Many of us have several different reasons for homeschooling our children.  I, myself, have a HUGE mental list of good reasons to homeschool.  One of the top five on that list is this – I homeschool my children in order to give them a Biblical Worldview within the context of their education.  I love the fact that we are able to integrate Biblical truths into science, math, history, and every other subject.
I pray that my children will grow to be able to live out the scripture from I Peter 3:15-16.
But in your hearts set apart Christ as Lord. Always be prepared to give an answer to everyone who asks you to give the reason for the hope that you have. But do this with gentleness and respect, keeping a clear conscience, so that those who speak maliciously against your good behavior in Christ may be ashamed of their slander. – 1 Peter 3:15-16
The Bible is absolutely the number one resource we use for teaching our children a Biblical worldview.  However, it's always wonderful to find a curriculum to go alongside it and help enhance our studies.  This is where Philosophy Adventure comes in.
What is Philosophy Adventure?
According to Homeschool Adventure, Philosophy Adventure is a pre-socratic curriculum designed to help students 6th-12th grade cultivate and defend a biblical worldview by teaching them how to write skillfully, think critically, and speak articulately as they explore the history of ideas.
Philosophy Adventure addresses tough subjects from a Biblical Worldview
Many people shy away from heavy philosophical questions such as Why is there death and suffering or Why am I here?  Philosophy Adventure addresses these questions and so many more head on.  Students are encouraged to think through the questions and be prepared to answer them from a Biblical worldview.  Our children will be released into the world before we know it, and they NEED to know how to answer difficult questions and defend their faith.
Philosophy Adventure is a valuable addition to our homeschool
Philosophy Adventure is not a busywork curriculum.  Students will learn valuable writing skills, thinking skills, speaking skills and so much more.  One of my favorite things about this curriculum is that it teaches your child to express himself well about subjects that many adults struggle with.
Philosophy Adventure's Creator Homeschool Adventure Co. has a Heart for Missions
Did you know that Homeschool Adventure Co. gives 10% off all their proceeds to Wellspring.  Wellspring is a ministry created by one of my favorite apologists, Ravi Zacharias.
The curriculum includes great hands on resources to increase learning with your student such as flash cards, timelines, and maps for geography work.
Philosophy Adventure is everything your 6th – 12th grade homeschooler needs for several subjects
This curriculum covers History & Geography, Logic, Vocabulary, Writing, Critical Thinking, as well as speaking skills for the year.  The writing portion of  Philosophy Adventure looks absolutely wonderful.  It takes the student from pre-writing all the way to a final product with excellent thought provoking checklists for them to follow as well as writing evaluation checklists.
In Summary
While Philosophy Adventure can be done completely independently by your student, I am really looking forward to going through it in the next year with my 6th grader.  I am very impressed by what I have seen, and am positive that I'll get more from this course than I ever did from my college philosophy course I took many years ago.
Homeschool Adventure has an AWESOME giveaway going on right now!  Enter below to be eligible to win one of over $800 in prizes for your homeschool!