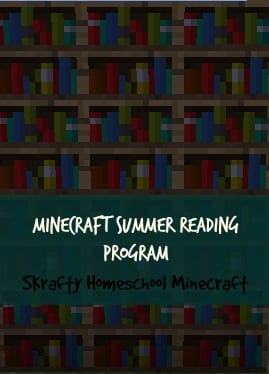 We are so excited to kick off the SKrafty Homeschool Minecraft Summer Reading Program. Players will earn in-game rewards for reading books in the next few months. Here's how it will work:
First
You will need to sign up for the program.
Go here to sign up for the SKrafty Homeschool Minecraft Summer Reading Program.
Second
Read!  I will leave it to the parents to decide which books are the appropriate reading level for their students. The books should be challenging, but not too difficult. We do want the students to enjoy reading! For the younger ones who aren't quite reading yet it's ok to include parent or sibling read read-alouds in the program.
If you would like some book suggestions there are some great ones on this list:
Third
Earn!  Students will have access to our edu site in which they can enter information about each book read. They will earn badges for each book they read, and also for each build project related to the book.
Fourth
Get Rewarded in Game!  Badges will be redeemed in game for coins to be spent at the new SKool shop on SKrafty! There will be a shop in the survival worlds as well as in Factions. The shop is coming soon and will include rare and hard to find items as well as frequently needed items.
Note:  All entries will need to be submitted by August 20, 2014.