[wp_eStore_add_to_cart id=175]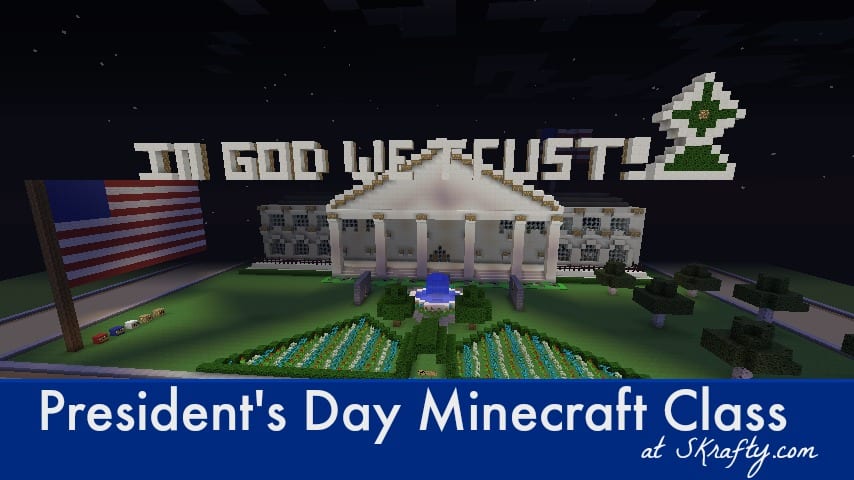 Are you looking for something fun and educational for the kids to do for President's Day?  This is the class for you.  This is a 2 week self paced class with weekly assignments so that your students can work through the assignments on their own time.  This class will also include a fun, mock-election in which students can participate.
What's to learn? We will learn about a few of the most famous U.S. Presidents, a history of the White House, and a little about how the presidential election works.
Following are the details:
WHEN :
Class will be available beginning on Monday, February 15, 2016.
COST:
Self Paced Class – $3.99
[wp_eStore_add_to_cart id=175]
Note:  Students will receive weekly instructions on our edu portal and go through the course on their own time.  Moderators will be available in game to field questions and help as needed.
WHERE: SKrafty Homeschool Minecraft Server (Not playing on SKrafty yet?  Get Whitelisted here)
WHAT:  We will have the following:
Weekly Self-Paced Assignments for 2 weeks.  This will included out of game studies as well as in game activities.
Enrichment activities will include a mock election.
End of Course Quiz to test progress (optional)
Requirements:
Premium Minecraft Account and Minecraft for PC or MAC
Minecraft account must be whitelisted on SKrafty Homeschool Minecraft Server.  Get Whitelisted here.
There are no specific age requirements, but students should be able to follow directions and know how to maneuver around in Minecraft.   Younger students will be able to participate as well with parent's help.
Students will be able to log in and begin on Monday, February 15, 2016.