Reading, Writing, and Arithmetic are usually considered the top 3 subjects to cover in school.  History & Science are also pretty important to learn, and what about electives?  The sky's the limit on those from music appreciation to agriculture there is an elective that will cover every interest.  
BUT, are those really the most important things that will get  your student through life and help them succeed in whatever path they choose to pursue?  Of course, book learning is important, but there are many life skills that we all need which will help us & our children become more successful no matter what they choose to do after formal "schooling" is complete.  
Help Your Child Succeed by Incorporating These Important Life Skills:
The skills needed to succeed in life can be learned and mastered by all of us. Every now and then, you might see someone who is really nice or intelligent but they are struggling with their lives.
Why do people fall into this trap? What can we learn from these examples if anything at all?
You can help your child to achieve their future goals by teaching them these life skills. Your children will thank you for it later in life!
Consider encouraging these skills to your child:
Curiosity. As adults, we can teach ourselves nearly anything. The first step to learning something is asking a question. Kids already have a natural curiosity instilled by their Creator.  We can encourage that natural trait in so many ways.  
Show your own curiosity.  If you and your child come across something interesting, ask questions like, "I wonder how that works?" .  Research the answer together & talk about it. 
I know sometimes as parents we just want quiet, and there is a time & place for that, but we can encourage curiosity in our kiddos by prompting them to ask questions and reward them when they do.


Finishing a Job or Task. This is SO hard to do in this busy world we live in with so many things competing for our time and attention.  However, it is SO important for us (speaking to myself here too) to focus on completing something we begin.  Avoid the mistake of not finishing a task or project before it's complete. As with most things, one of the best ways to "teach" this skill is to be an example & show it ourselves. 



For example, you can say something like, "We can go get ice cream, but first I have to complete this chore. It's important to finish what I start."


Train your child to finish what they start, whether it's reading a book, doing their math homework, cleaning their room or brushing their teeth.



Solving Problems and Working Through Challenges. Learning to work through the small challenges as kids will make larger adult challenges easier and not so overwhelming.  If your child can't get that backpack zipped or that shirt buttoned, let him work on it for a little while.  They will learn that they can accomplish hard things and they will feel empowered.  



Try hard not to  rush to your child's help every time something doesn't go just right. When you do that, it's showing that they are helpless without the assistance of others.  Of course always be there for them to back them up, but encourage them to try things for themselves first.



Finding peace in being able to be alone. Not many people are happy being alone 24/7, but spending a little while alone shouldn't be devastating.  Of course this time period varies by age.  Also, there is the fact that we are never truly alone.  As Christians we know that God is always with us.  Joshua 1:9: "Have I not commanded you? Be strong and courageous. Do not be frightened, and do not be dismayed, for the 

Lord

 your God is with you wherever you go."



We should all be able to entertain ourselves for a period of time. Everyone can learn that it's okay to be alone for a short period of time.  Of course, this isn't to say you should just leave your small children to fend for themselves.  You can always be nearby.



Having Compassion. Life is easier and more enjoyable when we learn to feel compassion for others. Demonstrate compassion in your life, and your child will learn it as well. Simply be kind and help others.


Being comfortable with change.  We all know how difficult life can be – it often throws us curveballs we didn't expect such things like the death of a loved one or job loss but when you're an adult who struggles just dealing with these changes, your inability becomes so much worse because now they don't have any chance of moving on from disappointment after being thrown yet another unexpected challenge in their lives. They remain stagnant and unchanged while those around him/her grow by learning new skillsets and overcoming obstacles together



Teach your child that sometimes life is like a roller coaster ride and change can be exciting.
Discovering their interests.  Wouldn't it be nice if we could all wake up every morning with a sense of purpose in our lives, pursuing the things that make us happy instead of just feeling stuck at work or slogging through another mundane task list without enthusiasm? If this is something worth striving for then wouldn't you want the chance for your children as well – so they can find their calling early enough in life rather than being forced into professions they didn't choose on account of family obligations and financial limitations?



Encourage your children to explore what really motivates and excites them. Encourage every interest, then help them figure out how they can be successful at it!


There is no better time to let your children explore their potential than when they are young. They'll love you for cheering them on during this process and providing encouragement, especially since it can be difficult as the child gets older.  
Spending a little time each day with your child exploring what they need to learn for the future can be an exciting experience. Explore together how you could achieve their goals, such as making them feel more confident or encouraging certain skills that will help in life. Spend some quality time talking about different ways of teaching and learning new things like cooking or reading aloud!
It is important for parents to be good examples to their children. It can feel frustrating if your child isn't listening, but know that they are always watching and looking up to you as an example of how behave in the world.  Now, for a FUN Giveaway!  
---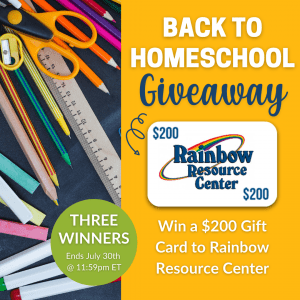 Another (home) school year is about to start! Many homeschool moms are busy preparing and finalizing curriculum choices for the upcoming school year. And many are trying to stick to their tight homeschool budget, hoping it will cover all the books and resources they will need. Winning a gift card to a major online homeschool retailer would surely help you check some things off of your curriculum wish list. Well, I've gotten together with a great group of homeschool bloggers to bring you a chance to do just that! 
Three homeschool families will win a $200 gift card to Rainbow Resource Center!! We know homeschooling can put financial strain on families – whether it's from living on one-income or buying curriculum for multiple children – the financial aspect of it can be stressful.  Our hope is that we can bless a few homeschool families (although we wish we could bless many more) so they can buy curriculum, books, games, puzzles, or whatever educational supplies they might need, with a little less stress.
To enter for your chance to win, simply use the Rafflecopter form below to enter.  Now I know this is quite a few entries, but each of these bloggers has generously chipped in their own money to make this giveaway possible, so I hope you will take the time to do all of the entries.  And hey, the more entries you do, the better your odds are of winning! Giveaway ends July 30, 2021 at 11:59pm ET.  Must be at least 18 years of age.  Must be a resident of U.S. or Canada to enter.  Selected winners will have 48 hours to respond to email notification to claim their prizes or another winner will be drawn.  By entering this giveaway, you agree to be added to the email lists of the participating bloggers (see the Terms & Conditions on the Rafflecopter form for the complete list).