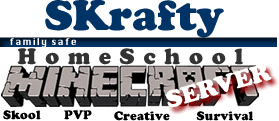 We are so thankful to the donators that make SKrafty, the Family Friendly Minecraft server a possibility.  We could not do it without you!
I wanted to post this to let you all know about some changes we have made to the Jedi Master Donation Rank.
Why are we making these changes?
As you may have heard, on June 12 of this year Mojang made some changes to their existing end user licensing agreement (EULA) which outlines how servers are able to operate. These changes will take affect on August 1, 2014.
This has forced us at SKrafty to make a few changes in order to be in compliance with the new specifications. The biggest change is that servers can only provide cosmetic perks for donators rather than game play affecting perks.
Why did Mojang do that?
The main purpose for the changes to the EULA is to prevent servers from becoming "Pay to Win" servers, and giving players unfair advantage in exchange for real money. This has never been a problem at SKrafty, and we have always advertised that our JediMaster Perk does not give an unfair advantage over users. Because of this we do not have to remove many perks from our jedimaster rank we mostly have to extend a few to everyone. Most all of our JediMaster perks are already cosmetic and provide fun perks for those who support what we offer with SKrafty.
Why do players donate anyway?
Before we talk about the rank changes that we have made I want to highlight for the parents the biggest perk for donating. Many people spend hours upon hours of their time to make SKrafty a top quality server with lots of activities from builds to exciting games with fun arenas while keeping it as family friendly as possible.
This comes at a cost..
SKrafty runs on high performance servers that are highly available with redundancy and a network capacity that would bring a tear to any geek's eyes. Running a large Minecraft server and managing all the ins and outs with all the in-game and out of game features is a lot of work for a typical Minecraft server.
However we are not just a typical Minecraft server..
We do not only manage Minecraft, Server Hardware, Web Design, Research and Development, uptime, builds, events and backups. At SKrafty we also do many things to manage your child's experience to make it as kid friendly as possible. We have double chat filters that catch all the bad words possible but it doesn't stop there. SKrafty Admins and Moderators monitor chat, referee issues, mentor children in integrity, humility, leadership, helpfulness etc..
So, what are these changes we are talking about?
Our approach for resolving this Eula change is not to take away from the donators but to add more cool abilities for the most part.
First of all, we are doing away with the other ranks such as youngling, etc.
The following perks will be removed from Jedi Master and be available to every player:
We have made flying available to everyone on our survival worlds. However only donators will be able to fly in the HUB.
We have made TPA available to everyone on the survival worlds.
We have made all Kits for KitPvP available to everyone. ( we were going to do this anyway )
The following perks will be removed from Jedi Master and not be added back currently.
We did remove /bigtree and /speed for jedimasters in survival worlds. Adding it to everyone could cause more trouble that it is worth.
Now for a list of JediMaster perks
/skull in EZ, EZ2, and Planet SKrafty. – Players will be able to decorate their homes, shops, etc with their own and their friend's heads. — Trust me, this is standard and is not as creepy as it sounds. It's like putting their picture on the wall.
/gamemode creative /gamemode survival In Imaginethat and Imaginethat2. – Players can switch from creative to survival and back in the Creative worlds.
/ci in EZ2 EZ and Planetskrafty. – Clear Inventory
10 Homes EZ, EZ2, Planet SKrafty, Arctic Factions and Factions.
/list Everywhere. – Allows players to see who is playing on the same server as them.
Color signs
Hats and /hat command.
5 plots in Imaginethat2
Pets
/Enderchest in Arctic Factions, Factions, EZ, EZ2, PlanetSKrafty
/flashlight on/off in EZ, EZ2 or Planet SKrafty
Unlimited AFK (EVERYWHERE)
/Backpack EZ, EZ2, Planet SKrafty
FireWork on join – Jedi Masters will always have a grand entrance with fireworks!
/fw (Firework)
Stacking in Hub
/me command access
/near in nonpvp worlds
Access to Paint Gun in hub.