In our household over the years we have gone through many books and have had some wonderful discussions about them along the way.  One of our favorite homeschooling tools is great literature.  Using good books in your homeschool is a wonderful way to bring subjects to life.  We have used literature books to study all subjects, even math!  Kids will often pick up on something they read in a book, and follow down a rabbit trail of learning that is never ending!  It is wonderful!
BUT, how can you experience the joy of learning with literature if your kiddo does not love to read?  Do you have a reluctant reader in your homeschool? If so, don't worry, you are not alone. Many children struggle with reading, especially if they find it difficult or boring. One great way to get around this problem is to use audiobooks.  In this blog post, we will discuss how to make the most of these tools and help your child learn in a fun and engaging way!
Audiobooks are such a great way to provide literature-rich instruction for your child, even if they do not enjoy reading. By listening to audiobooks, your child can still experience great stories and learn new vocabulary. Additionally, many audiobooks come with accompanying materials, such as activities or discussion questions. This makes them perfect for homeschooling, as you can easily incorporate them into your lesson plans. 
If you are new to audiobooks, Audible is a great place to start. Audible is an online platform that offers thousands of audiobooks for purchase or rental. You can also sign up for a monthly subscription, which gives you access to a certain number of audiobooks each month. Audible is a great option for homeschoolers, as it offers discounts on tons of educational titles.  We have had a subscription for many many years, and use it often!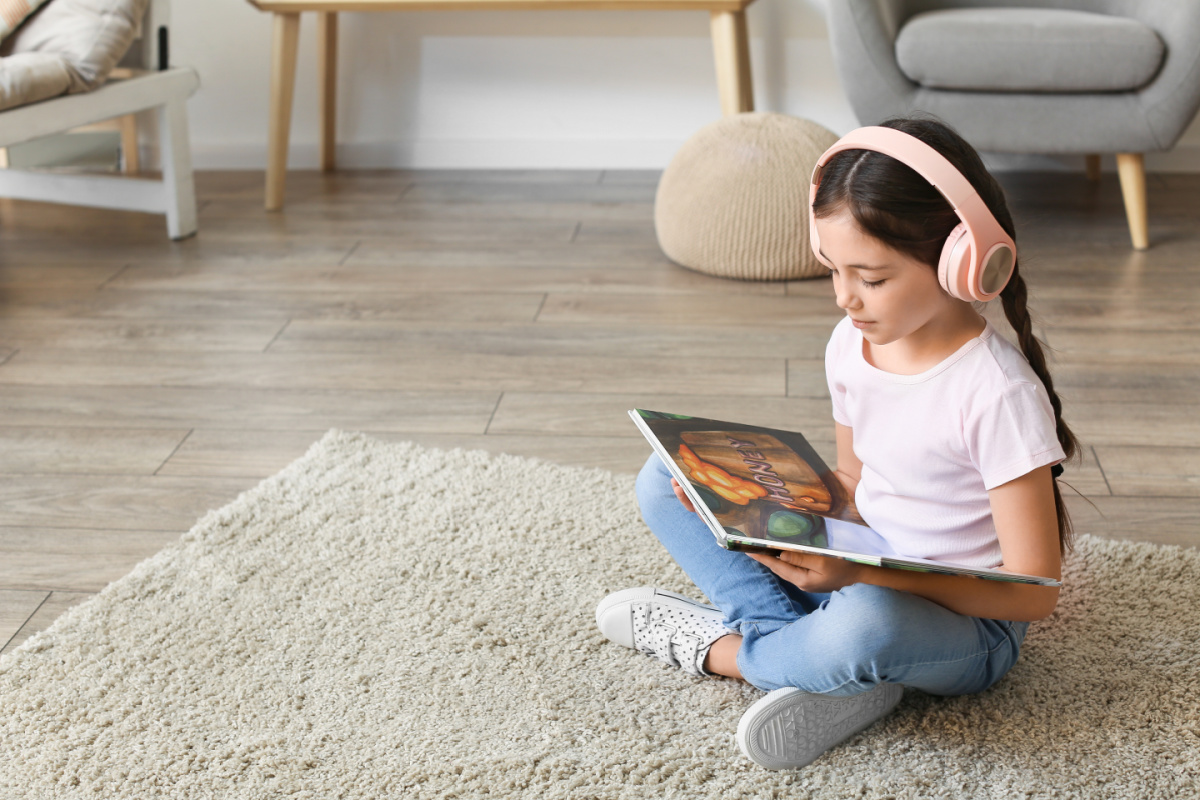 So how can you use audiobooks in your homeschool? Here are some ideas:
Have your child listen to an audiobook while they follow along with the physical book. This is a great way to help them improve their reading skills.

Use audiobooks as a supplement to your regular homeschool curriculum. For example, if you are studying ancient history, have your child listen to an audiobook about the Roman Empire. (SKrafty has several self paced literature classes to go along with different eras of history including enrichment and online quizzes)
Take turns listening to an audiobook together as a family. This is a great way to bond and discuss what you are learning.
Take advantage of travel time by listening to an audiobook in the car while you are out and about.
Start with shorter books or books that are part of a series. This will help them get used to the idea of listening to a book and make it less daunting.
Let them choose the book. If they are interested in the story, they will be more likely to listen to it.
Set aside time each day for listening to the audiobook. This can be before bedtime or during lunchtime. Choose a time when your child is relaxed and can focus.
Have them take breaks if needed. Listening to an audiobook for long periods of time can be tiring. Let them take a five minute break every half hour or so.
Discuss what they are listening to. Ask them questions about the story and characters. This will help them engage with the book and remember what they have heard.
Audiobooks can be a great asset for any homeschool. By using them, you can help your child learn in a fun and engaging way, even if they do not enjoy reading!
What are your favorite ways to use audiobooks in your homeschool? Share in the comments below!  PLUS..Keep reading for a FUN giveaway!
---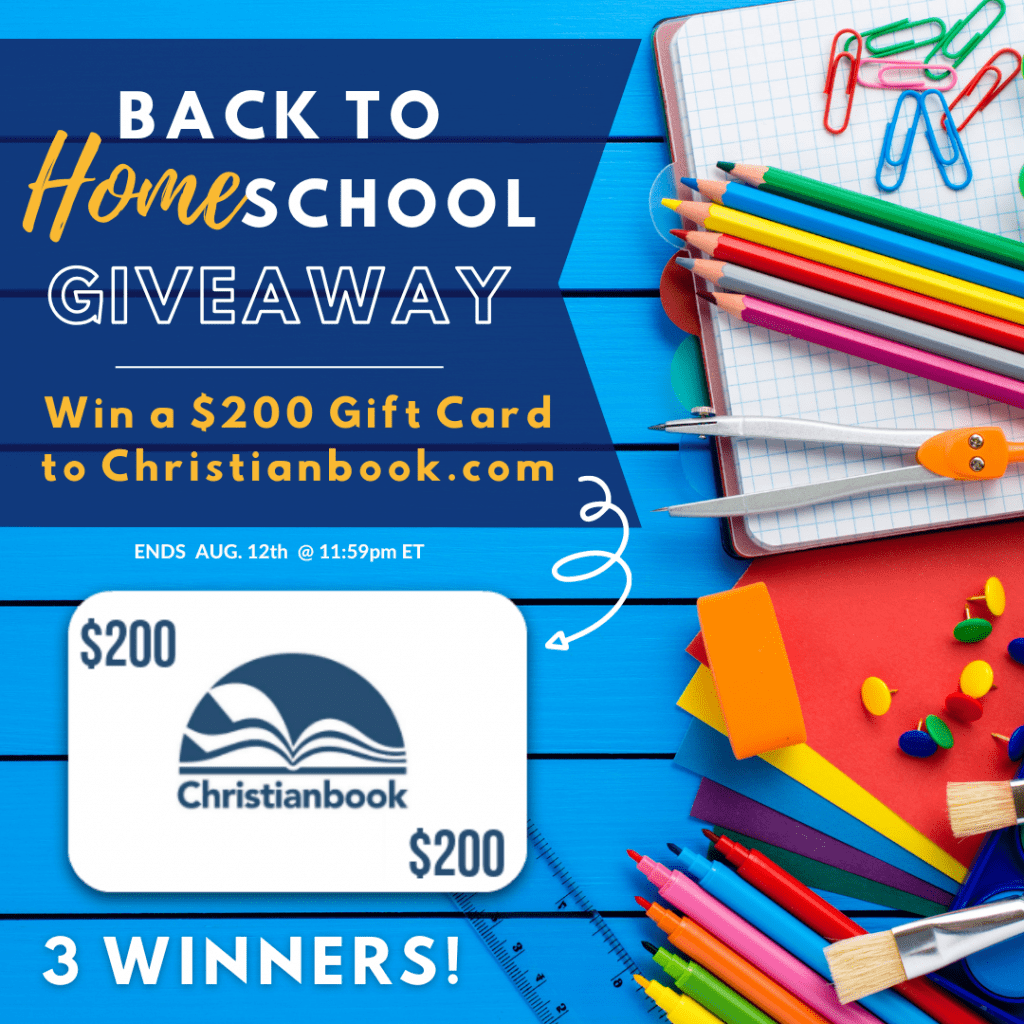 Another (home) school year is about to start! Maybe you've already started your year, or maybe your school year never ended (you homeschool year-round).  Either way, what homeschool mom couldn't use a little extra money for homeschool curriculum or resources? Winning a gift card to a major online homeschool retailer would surely help you check some things off of your curriculum wish list! I've teamed up with a great group of homeschool bloggers to bring you a HUGE gift card giveaway to Christianbook.com.  We will be blessing THREE homeschool families with a $200 gift card for you to use on curriculum, books, games, puzzles, or whatever educational supplies you might need! We know homeschooling can put a financial strain on families – whether it's from living on one-income or buying curriculum for multiple children – the financial aspect of it can be stressful.  Our hope is that we can bless a few homeschool families (although we wish we could bless many more) and ease a little of that financial burden. To enter for your chance to win, simply use the Rafflecopter form below to enter.  Now I know this is quite a few entries, but each of these bloggers has generously chipped in their own money to make this giveaway possible, so I hope you will take the time to do all of the entries.  And hey, the more entries you do, the better your odds are of winning! Giveaway ends August 12, 2022 at 11:59pm ET.  Must be at least 18 years of age.  Must be a resident of U.S. or Canada to enter.  Selected winners will have 48 hours to respond to email notification to claim their prizes or another winner will be drawn.  By entering this giveaway, you agree to be added to the email lists of the participating bloggers (see the Terms & Conditions on the Rafflecopter form for the complete list). a Rafflecopter giveaway