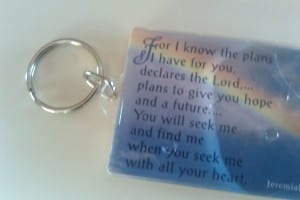 Ok, so I just had to share this conversation I had with my 5 yr old this morning.
Just a little history first — Last night right before bed he found a keychain with a verse on it & asked if he could have it. My answer was "yes, if you go to bed good"(I know, bad grammar, sorry).
Here's how it went this morning when he woke up and came to me in the kitchen.
Him: Here, Mom(handing me the keychain). I've got some good news and I've got some bad news.
Me(mom): What is it? (As I'm taking the keychain from his hand into mine)
Him: Well, The Good News is that I went to bed good last night
Me: What's the bad news?
Him: The Bad news is that I dropped that keychain in the toilet.
Me: (Now noticing that the keychain that I now have in my hand is dripping a little)
EWWWWWW!!!