Are you looking for a fun unit study to do with the whole family for Christmas this year!  This is a totally brand new study with 10 lessons that your kiddos will remember for the rest of their lives.  Keep reading to find out what you'll find in this Christmas Unit Study.
Settle in with some cocoa, because "Yuletide Treasures: Unwrapping the Symbols of Christmas" is not just another class – it's a self-paced journey into the heart of the holiday season. We're going to connect the dots between our favorite Christmas traditions and the story they all started with: the birth of Jesus in Bethlehem.  Think about it: every twinkling light on the tree is a nod to the stars that lit up the very first Christmas night. As you click through our lessons at your own rhythm, you'll see how each wreath, carol, and sweet candy cane has a backstory that ties back to that joyous event.
This isn't your typical rush-before-the-holidays craze. Take your time to savor each lesson, just like you would a good Christmas cookie. We'll delve into the meaning behind the manger scene, and why it's more than just a charming decoration. We'll see how the tradition of gift-giving reflects the gifts given to baby Jesus, and how every symbol is a celebration of the hope and joy his birth brought into the world.
Picture this: We're going to look at that Christmas tree and see more than just sparkly ornaments—we'll discover the star that guided wise men and the everlasting life it represents. We'll unwrap the story of Jesus' birth with every symbol, from the humble manger scene set up on your mantle to the angel-topped tree.
It's about connecting each tradition, from the fragrant wreath on your door to the gifts tucked under the tree, back to that starry night in Bethlehem. We'll find out how these time-honored traditions aren't just fun—they're a celebration of the hope and joy that Jesus' birth brought into the world.
This class is interactive and just a whole lot of fun. You'll craft, sing, and even get our taste buds in on the action with some traditional Christmas treats. So, if you're ready to dive into the true spirit of the season and find out how every jingle bell and holly sprig points us back to Bethlehem, come along! Let's make this Christmas one that's not just merry, but meaningful, for every student curious about the origins of our festive traditions.

DETAILS & How To register for the class:
This course will open on Monday, November 27th.  Head over HERE or at the link below to register for the class, and you will receive an email when it's ready to go!  
---
Keep reading to enter the giveaway!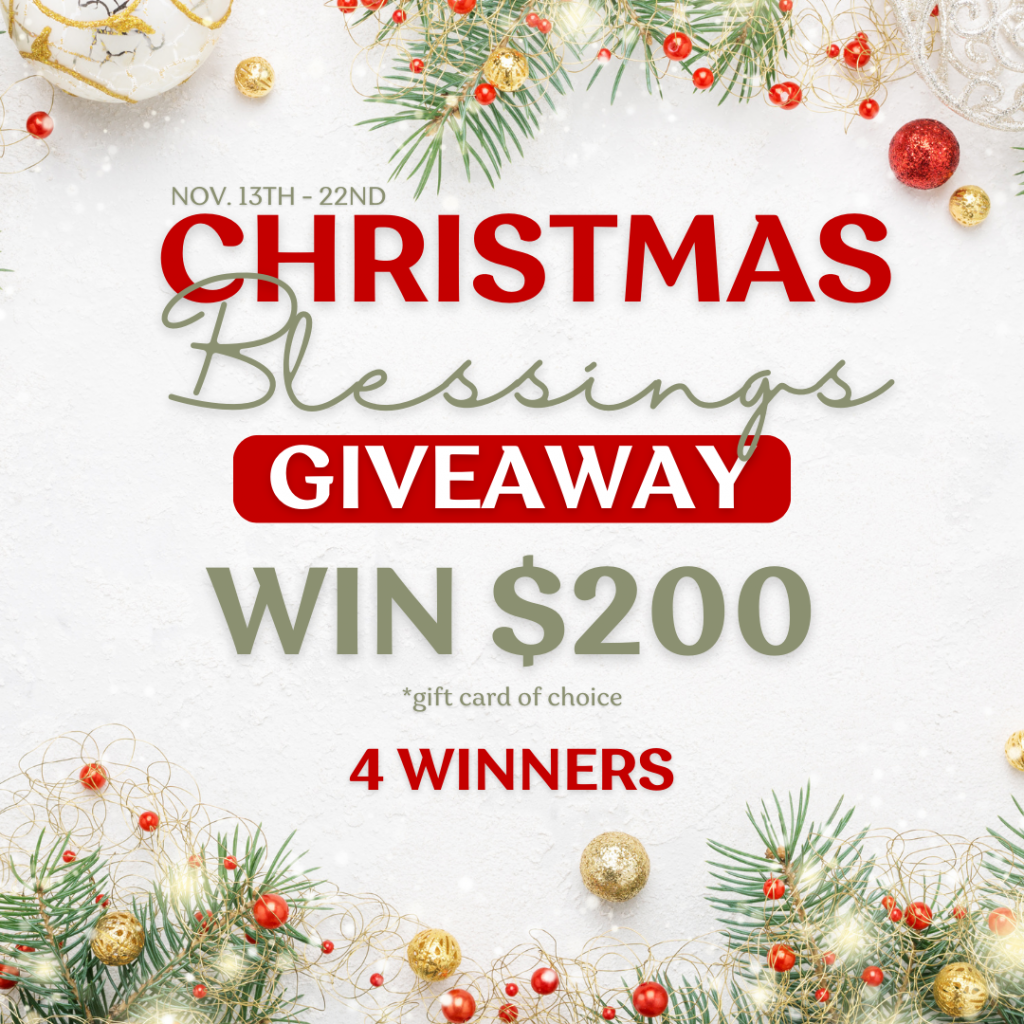 Christmas sure is coming up quickly this year!! At least it feels that way when everywhere you turn there are signs of Christmas all around, yet we haven't even gotten to Thanksgiving yet. It seems the Christmas season starts earlier and earlier every year. It IS the most wonderful time of the year after all, so why not celebrate for as long as we can, right?! To help celebrate this Christmas season, I'm teaming up with a group of amazing bloggers to bring you the 10th annual Christmas Blessings Giveaway!! I can't believe we have been blessing families for TEN years!! We all love doing this and we look forward to it every year! While the giveaway has changed and evolved a bit over the years, many of participating bloggers have stayed the same – so many generous and dedicated women are behind this giveaway. This year we will have FOUR winners!! Each winner will get a $200 gift card to wherever they choose – a restaurant, clothing store, grocery store, online retailer – any place that offers gift cards! There are lots of entry options in the Rafflecopter form below – the more you enter, the better your chance of winning!  I know it can seem tedious and time consuming to go through all the entries, but isn't a chance at $200 worth it? I think it is!  Plus, all of these amazing bloggers donated their own money towards the prizes, so this giveaway wouldn't be possible without them.  I hope you'll take the time to check out each one. Who knows, maybe you will find some new blogs to follow. The giveaway will run from Monday, November 13th through Wednesday, November 22nd (ends at 11:59pm ET). Winner will be notified by email shortly after the giveaway ends and will have 48 hours to respond to claim the prize or another winner will be drawn. By entering this giveaway, you agree to be added to the email lists of the participating bloggers.  Please be sure to read the Rafflecopter terms and conditions upon entering. a Rafflecopter giveaway