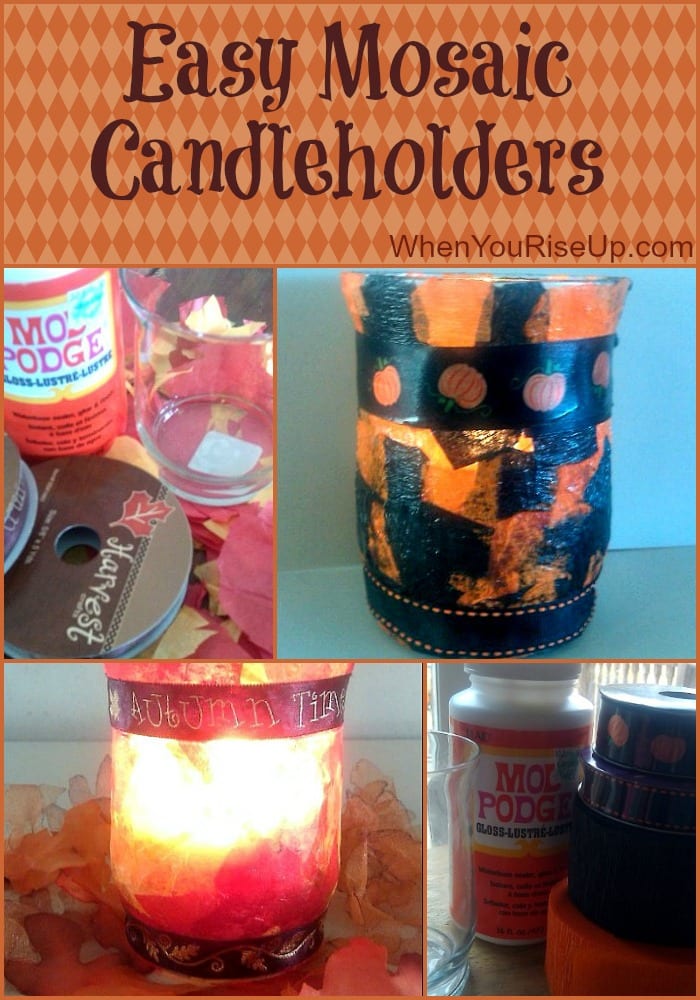 I saw this really cute idea in the latest Taste Of Home, and decided to try it myself. They used jars for theirs, but I decided to try it with some tealight holders from the Dollar Tree.  My kids had a blast making these, and they were super frugal!
What you'll need: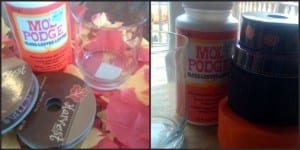 Glass Candle Holders from the Dollar Tree($2.00)
Ribbon – You can use 2 different kinds like I did or just one.  I got these when Hobby Lobby had a half off sale so total cost for all 4 was $4.00.
Mod Podge – This was the biggest expense at $6.99.  I didn't have a coupon with me, but this would be a good thing to use the frequent 40% off coupons from Hobby Lobby, Michaels, Etc.  There was PLENTY left for other projects though!
Tissue Paper & Streamers- The red & yellow came in a multi colored pack from The Dollar Tree, but I also wanted orange & black which they didn't have tissue papers in.  I ended up getting streamers for those colors which worked beautifully!  Total cost $3.00
Paintbrush(free, already had one at home
The only thing I used up was the candleholders.  There was plenty of supplies left to make many more.
Instructions
Cut up the tissue paper and/or streamers into smaller pieces.  We kinda ripped the paper for the Autumn one to make it look more like leaves, but used scissors & cut squares for the Black & Orange one for a different effect.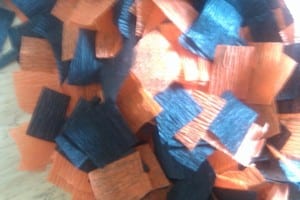 Spread Mod Podge with the paint brush all over the outside of the candleholder.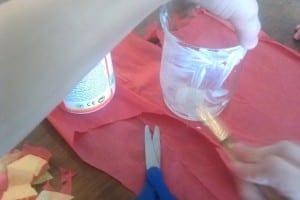 For some reason I didn't have any photos of the rest of the steps, but it's really easy:)
Stick the paper onto the glue.  Just stick it all over & make sure to distribute the colors evenly & fill in all the clear spots.
Paint another layer of Mod Podge over the paper.  Cover it Completely!
Cut the ribbon to fit & place it around the holder.  I used 2 different kinds, but you can just use 1 or none — be creative:)
Paint another layer of Mod Podge over the ribbon