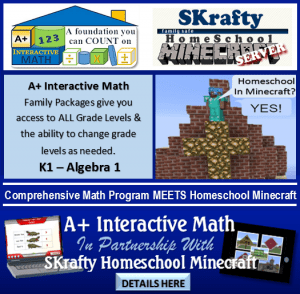 As many of you already know we have a really fun math class on SKrafty.  Each week we post a math activity to go along with each grade from 1 – 6.  We highly recommend, and have lined up each of the lessons with the lessons in A+ Interactive Math.
Those who purchase this class will receive up to 90% off on A+ Interactive Math -Family Package. Get an entire year of comprehensive math curriculum that uses animated video lessons to teach, includes automatic review, worksheets and regular testing. With the Family Package – you will have access to all grade levels K1-Algebra1, and the ability to move students up and down through grade levels as needed.
1 Full Year Math Curriculum:
1 student – $149.99  $67.50
2 students- $90.00
3 students- $112.50
4 students- $135.00
Those are prices for the family plan, and the discount also applies to the single year, subscription plans and such.  Just add to your cart and click checkout to see your discount.
Minecraft projects will follow along with the chapters in the A+ Interactive Math program. Price for the homeschool Minecraft math is per semester. Once purchased, you will be sent a discount link to buy the math program at the huge discount as listed. "
Purchase your A+ Interactive Math Curriculum here from A+.  Math Discount will show at checkout before you pay.
IMPORTANT NOTE:  The link above is to purchase the A+ Math Curriculum from A+ Interactive Math.  If you'd like to purchase the awesome Minecraft projects to go along with them click here.