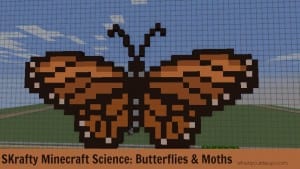 This 6 week class will teach the life cycle of butterflies and moths from caterpillars to flying insect. There is no required text, however there is an OPTIONAL book and science kit purchase!!  This is optional, but will be scheduled in the class as optional assignments and will make the experience much more enriching!
Insect Lore Live Butterfly Garden (This will come with a coupon for caterpillar larvae at a $5 shipping cost.  Once you receive your garden you will have to send off for the larvae which will take an additional couple of weeks.)
Insect Lore Butterfly Culture* (* Order this ONLY if you don't want to pay shipping for, send off and wait for your larvae once you receive your garden)
From Caterpillar to Butterfly by Deborah Heiligman
There will be a weekly lesson and Minecraft assignment.
Students will earn a Diamond Armor badge when they complete the whole class.