Give your Child a REAL Minecraft Birthday Party on the SKrafty Family Minecraft Server
Chat filters and Moderation makes it kid and family friendly
Invite family and friends
Out of town guests can join the party on the server
It is YOUR PARTY and YOU are in CONTROL! It's SO Easy to use, kids can run their own show.
As the host you will have full control of your Birthday Party Server. Here is a list of features you control.
Turn Party On – This will open the party for anyone on SKrafty to join. Turn Party Off – This will close the party and no-one will be able to enter but you. You can also open and close all the gates that lead to the mini games.
Freeze Tag
Rock'in Roller Coaster
Creeper Coaster
Glass Maze
Birthday Cake Room
Your Creative Server
Turn off the rain
Turn day time on
Turn night time on
Play music for everyone to hear with your own custom jukebox.
Want a small party? Invite your Friends!
You do not have to open your party to everyone on SK… It can be a smaller party for just you and your closest friends.
You'll type /partygate allow <playername>
How easy is it to control my party?
It is super easy! You will receive a compass in your tray. Right click with the compass and you'll see the menu to control everything listed above. It is point and click.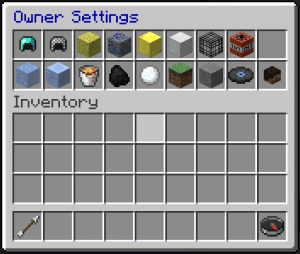 Just like old times! You and your friends will be able to play tag. Once you open the game 20 players will be able to enter and play Freeze Tag. One player will be "IT" and will have to tag all the other players to win. All the other players will run! If they are tagged they will freeze in the spot they were tagged. If all players are frozen the person that is "IT" will win. Watch out though, if a player that is not frozen tags another player that is frozen they will unfreeze. Sound familiar? This is a FUN game!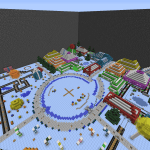 Get ready and buckle up
for 2 giant roller coaster rides. Once you open the gate all your friends will be able to join you on the roller coaster adventure of your life. Make sure to grab a screen shot to catch your expression as you fly down 1000 block hills or going through tunnels.
Rock'in Roller Coaster
Turn on some music and enjoy the ride! Enjoy the scenery as you whisp by… .It's ok to scream but you might want to warn your parents first :).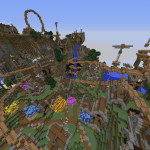 Creeper Coaster
Don't let it creep you out it's just a coaster :p.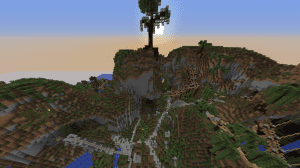 GLASS MAZE
Think your good at mazes? Try to be the first to complete the Glass Maze.. This way,, nope dead end.. This way.. well that may be a dead end too. Keep trying you will make it. The first one to finish will be able to climb on top of the maze and watch the rest of their friends try and make it. Hope you are up for the challenge!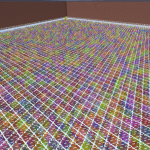 Your Personal JukeBox
Play some of your favorite tunes.. and guess what! Everyone can hear what you hear! You can turn it on and turn it off. Your own personal juke box. You will be able to play some select favorites including "Happy Birthday". This is fun while going through the Glass Maze, riding the Coasters, and dancing in the Birthday Cake Room. A special resource pack will install as you join your Birthday Party server to enhance your tunes.
Don't like it to rain on your party? No problem because you are in control. You can turn the rain off and have a bright sunny day to play!
You choose.. You can control whether it is day time or night time at all times. You might want a night ride on the coasters or a day time maze. Have it your way. In the creative world you might want to turn it night and craft some fireworks for your celebration. Fun times!
This is your own creative world on SKrafty! Everyone at your party can build you something special for your Birthday! You guys will have a blast creating something special. It is also a keep sake! Add this option as an extra and we will capture this world and send it to you. You will be able to look at the creations you and your friends built on your Birthday in your local world.
Base Party Price — $45.00 — Includes the following:
Access to party server for 5 hours. This includes 1 hour before the start of the party for host and 4 hours of party time.
2 Hours of dedicated moderator/party helper from SKrafty staff. These 2 hours begin at party start time.
Host controls the party schedule and opens and closes gates at choice.
Access to Birthday Cake Room with parkour and glass maze.
Access to 2 mega roller coasters.
Access to virtual jukebox controlled by party host.
Access to Control the weather in bday party server.
Freeze Tag Game access
Party creative world
[wp_eStore_add_to_cart id=96]
________________________________________________________
Extras:
Your creative world sent to you. Attendees will build special creations for the birthday host. With this option we will send that world to the host to load in single player so they can keep them.
Cost: $10
[wp_eStore_add_to_cart id=97]
Teamspeak Channel for Party Attendees. Attendees and the host can have their own private TeamSpeak channel just for them. Channel will be monitored by SKrafty staff.
Cost: $10
[wp_eStore_add_to_cart id=98]
Invitations Provided: With this option you will receive a pdf invitation you can email to friends or print to hand out.
Cost $5
[wp_eStore_add_to_cart id=100]
Party Photography – SKrafty staff will take screen shots during the party and provide to host afterwards.
Cost: $10
[wp_eStore_add_to_cart id=99]
Party Announcement – Special Server announcement on SKrafty repeated every hour for 1 day prior to party. This is for hosts who choose to invite the entire SKrafty community. For private parties this will not run.
Cost: $5
[wp_eStore_add_to_cart id=101]
IMPORTANT!! Once you pay please fill out the form at the following link:
SKrafty Birthday Party Questionaire
Check the calendar to see if your date is available:
NOTE: The calendar will be updated nightly so may not be in real time. Please choose 2 alternative dates and times in case the first choice is unavailable.
[sbc title="yes"]