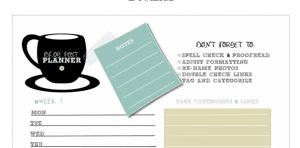 If any of you are running a business or a blog from home then you know how important it is to be organized. Well, honestly even if you're not running a business it can be tough to fit it all in.  It's so easy to let things slip through the cracks when you're having to balance all the mom stuff, homeschool stuff, and work stuff into one day.  That's why I really NEED to get organized with my blogging. I always have ideas for things I'd like to post, but they never make it to paper.  Therefore they don't make it to the screen.
That's why I think it's time for me to start using a Blog Planner.  There are so many to choose from that it was really difficult to make a decision.  Until I got to this one.
Why did I choose the Girl in The Woods Blog Planner?
Well, those who know me will see it right away.  If you didn't already know I am a HUGE coffee lover!  I very much look forward to a big 'ol cup of coffee every morning while I'm working on my blog so the graphics on this planner drew me in immediately.
I also really love the pretty colors.  They are so pleasing to the eye.  For some reason the colors didn't print correctly on my printer, but it still looks great.
Another reason I chose The Girl in The Woods Blog Planner is for it's simplicity.  I am an online organizer kind of gal so I really loved that this provides me with a quick at-a-glance view of what I'm supposed to be doing for the week.
Here's how I put The Girl in The Woods Blog Planner to use:
I printed out a couple of months worth of sheets, and put them in a 3 ring binder.
I also printed out a calendar for March and placed it in the front.
I made a pretty cover for the front of the binder, and voila, now it's ready to set on my desk and refer to as I'm working on my site each day.
Note:  If you come back tomorrow I'll have some pictures to illustrate how I am using the planner.