Price
No Longer Available for Registration
Get Started
This course is currently closed
NOTE:  This Course is no longer available for registration.  If you are looking for a current writing course please see upcoming Fall courses HERE or at the link below: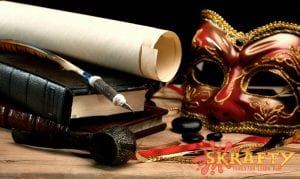 In this exciting high school elective we will study the progression of the theatre from the outdoor Greek stage to the modern indoor stage.  Along the way, we will study the plays for each time period that have become classic literature.  We will also learn theatre terminology and where it originated.  Students will have projects to complete for the different time periods in theatre history such as costume design or set design.  No textbook is required.  Students will need note paper or a notebook.  This course will begin Thursday, September 13th at 11:00 AM CST
Includes the following:
Class includes live, interactive class taught in Adobe Connect virtual classroom.
Online, self-graded quizzes
Live classes are recorded for later viewing
Optional Minecraft Activities upon request
Students will earn badges as they complete quizzes and a Diamond Armor badge when they complete the whole class.