Price
Included With Subscription
Get Started
This course is available.
At a Glance:
Format: Self Paced
Minecraft Activities: Yes, optional
Graded: No; grade is part of Notgrass America the Beautiful course
Number of Lessons: 3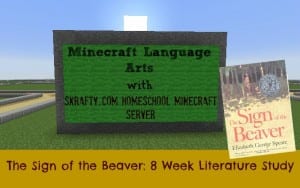 This will be a 3 week study of the book The Sign of the Beaver by Elizabeth George Speare. This course is to be used with the Notgrass: America the Beautiful class. Students will have a weekly lesson along with a Minecraft adventure and creative writing.
Students will earn a Diamond Armor badge when they complete the whole class.