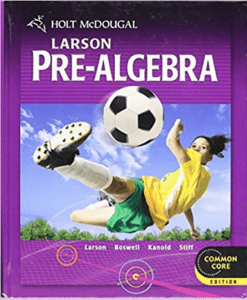 It's math time! Please join us for a fun-filled math class while we learn all about Pre-Algebra! This course is a Full Year class, and the textbook we will be using is Holt McDougal Larson Pre-Algebra.  The ISBN number is 9780547587776. This book is readily available in used condition from Amazon.com (Just be sure to confirm the ISBN number matches).  We will have a self-paced class each week taught by Mrs. Kristen!  You can find a placement test HERE. This class will meet for a LIVE orientation on Wednesday, September 12th at 1:00 PM CST.
Daily lesson and textbook assignments.
Students will log into online class portal for assignments.
Weekly Quiz to test progress
Optional Minecraft Activities upon request
Students will earn badges as they complete quizzes and a Diamond Armor badge when they complete the whole class.