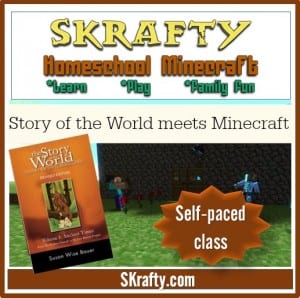 It's history time! Please join us for a 2 semester history class while we learn all about the Story of the World.  Incorporate Minecraft with History for only $1 per week!!
This will be a self-paced course using the textbook Story of the World Volume 1 by Susan Wise Bauer.  I recommend both the story book and the activity book.  This will be geared for grades 1-8 with more quiz questions for grades 4-8.  You can see pages of the book and check out the Table of Contents here.
Following is a link to the activity book which is optional, but highly recommended:
Story of the World, Volume 1 Activity Book
Following are the details:
WHEN :
Self Paced class can be started at any time after that date, and student can go through the class at their own pace.
Need to start later or miss a few weeks?  No problem!  Just pick up where you left off.
Price: $29.99  (Students will be able to work through the assignments at their own pace.)
WHERE:
SKrafty Homeschool Minecraft Server (Not playing on SKrafty yet?  Get Whitelisted here)
WHAT:
Class will include the following:
Students will log into an online class portal each week for assignments.
Weekly lesson and textbook assignments.
Weekly Minecraft Project Assignments.  Students will have a week to complete assignments.
Weekly Quiz to test progress
Students earn badges for completing quizzes
Students will earn tokens on the SKrafty Minecraft server to spend in the SKool Shop.
Requirements and Prerequisites:
Want to join us?  Spots are limited!  Sign Up Below: