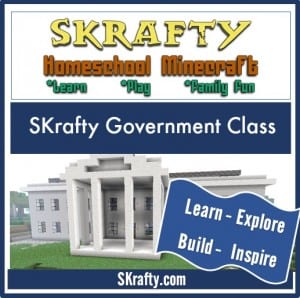 Students will role play through 4 types of government – Monarchy, Socialist, Anarchist, and Democratic Republic.
Over a 10 week period they will participate in these societies in Minecraft on the SKrafty Homeschool Minecraft server.
There will be an assigned milestone to complete each week pertaining to that type of government.
Students who complete their milestones will also receive SKrafty SKool Tokens to be used in the game!
This class will be fun for ALL Ages!!
Cost: $10.99
Starts on Monday, October 3rd, 2016 and ends the week of December 12, 2016.
Live Weekly Live chat will be on Mondays at 4:00PM CST
This class will be  a really fun opportunity for your player to immerse themselves into learning about government. Join us?
NOTE:  This class is included in the SKrafty EDU Subscription (PC/MAC Version only).  Subscribers will automatically have access to this class on the first day it is available at no extra cost.