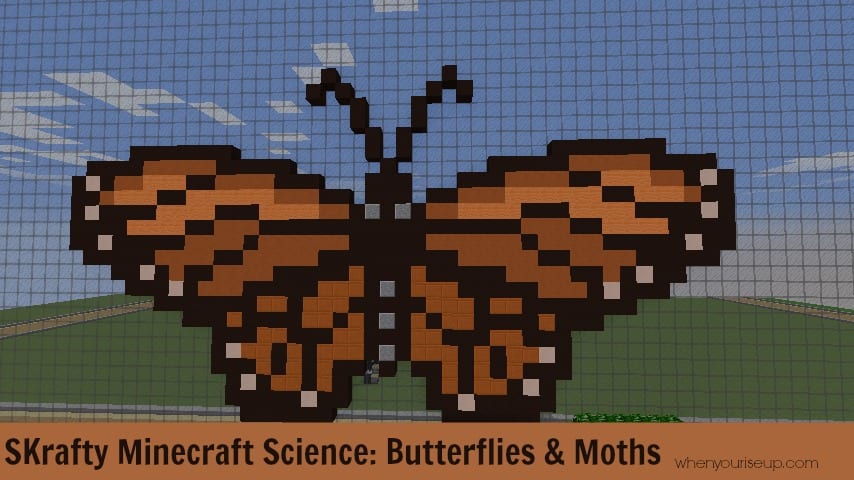 Join us on a super fun 6 week tour of Butterflies and Moths.  This self paced class will be perfect for the young minecrafters.  We will be exploring several exciting things about these beautiful creatures and more!  This will be a self paced class with weekly assignments so that your students can work through the assignments on their own time.
The class will include the following:

Life Cycle of Butterflies and Moths
Characteristics of each
Differences between butterflies and moths
Symmetry
more…
Following are the details:
WHEN :
This class is self-paced and is available to begin at any time.  Students may work through the course at their own pace.
COST:
Self Paced Class – $6.99
WHERE: SKrafty Homeschool Minecraft Server (Not playing on SKrafty yet?  Get Whitelisted here)
WHAT:  We will have the following:
Weekly Self-Paced Assignments.  This will include out of game studies as well as in game activities.
Requirements:
Premium Minecraft Account and Minecraft for PC or MAC
Minecraft account must be whitelisted on SKrafty Homeschool Minecraft Server.  Get Whitelisted here.
Students should be able to follow directions and know how to maneuver around in Minecraft.   This class will be best suited for 1st – 4th graders, and younger students will be able to participate as well with parent's help..
OPTIONAL book and science kit purchase!!  This is optional, but will be scheduled in the class as optional assignments and will make the experience much more enriching!

Insect Lore Live Butterfly Garden (This will come with a coupon for caterpillar larvae at a $5 shipping cost.  Once you receive your garden you will have to send off for the larvae which will take an additional couple of weeks.)
Insect Lore Butterfly Culture* (* Order this ONLY if you don't want to pay shipping for, send off and wait for your larvae once you receive your garden)
From Caterpillar to Butterfly by Deborah Heiligman

Want to join us?  Sign Up Below: