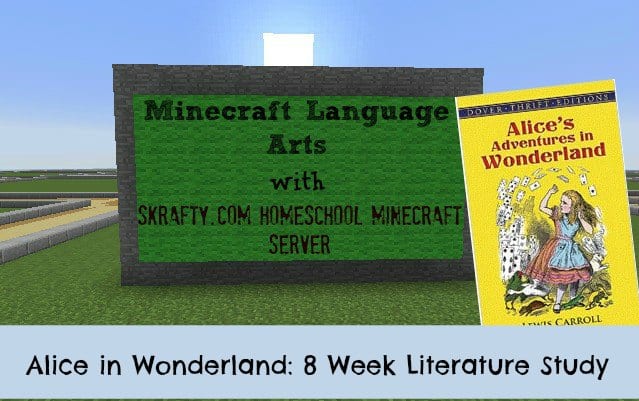 I hope you will be joining us for this fun literary adventure, Minecraft style!  Last time we ventured through the wardrobe in Minecraft style.  Students will read Alice's Adventures in Wonderland on their own time, and complete weekly enrichment assignments on SKrafty's server.  This will be an 8 week self paced class with weekly assignments so that your students can work through the assignments on their own time.
Following are the details:
WHEN :
Class will be available beginning on Monday, February 23rd.
COST:
Self Paced Class – $8.99
Note:  Students will receive weekly instructions via our education site, and will go through the course on their own time.  Moderators will be available in game to field questions and help as needed.
WHERE: SKrafty Homeschool Minecraft Server  (Not playing on SKrafty yet?  Get Whitelisted here)
WHAT:  We will have the following:
Weekly Self-Paced Assignments.  This will included out of game studies as well as in game activities.
Enrichment activities will include recreating scenes and details from the book inside Minecraft.
Assigned weekly vocabulary words and comprehension questions to be answered in game in book & quill.
Bi-Weekly Quiz to test progress (optional)
Requirements:
Premium Minecraft Account and Minecraft for PC or MAC
Minecraft account must be whitelisted on SKrafty Homeschool Minecraft Server.  Get Whitelisted here.
There are no specific age requirements, but students should be able to follow directions and know how to maneuver around in Minecraft.   Younger students will be able to participate as well with parent's help.
Students will be able to log in and begin on Monday February 23rd.
Want to join us?  Sign Up Below: