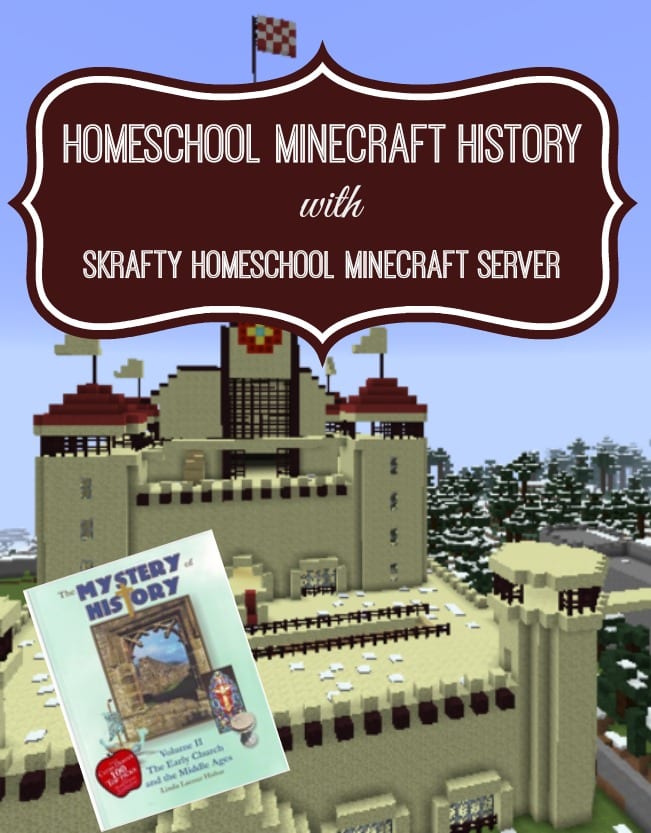 History Anyone?  History is definitely one of our favorite subjects around here.  I believe it's really important to learn about our past.  For 2014, we will be going through Volume II of the Mystery of History® , and I would love to invite you all to join us!
This course will be a full semester of history curriculum covering the second half of Mystery of History Volume 2.  It is a continuation of the first MOH 2 class. The text book we will be using is Mystery of History® Volume II by Bright Ideas Press.  We will have a live class each week, assignments, and of course Minecraft activities to go along with it.
Following are the details:
WHEN :
Live Class begins Tuesday, May 20th, and will run through the week of Tuesday, August 26th with a week off during Memorial Day.  The final 4 weeks will include a single, more detailed project.
Self Paced class can be started at any time, and student can go through the class at their own pace.

Class Time: 11:30 AM CST
Live weekly Class with in game assignments – $32.00 
Self Paced Option – $15.99  (Students will be able to work through the assignments at their own pace.  The Skrafty History teacher will be available for questions via email.) 
WHERE: SKrafty Homeschool Minecraft Server Mine Through Time (Not playing on SKrafty yet?  Get Whitelisted here)
WHAT:
We will have the following:
Weekly teacher led live class and textbook assignments. (Live Class not included in self-paced option)
Weekly Minecraft Project Assignments.  Students will have a week to complete assignments, and teacher will be available at certain times throughout the week for questions and help if needed with a scheduled (optional) in game teacher time on Thursday at 11:30.
Bi-weekly Quiz to test progress (optional)
Requirements and Prerequisites:
Premium Minecraft Account and Minecraft for PC or MAC
Minecraft account must be whitelisted on SKrafty Homeschool Minecraft Server.  Get Whitelisted here.
Required Textbook: Mystery of History Volume II.
Student should know the basics of building in Minecraft, and use proper Minecraft ettiquette (no griefing, etc.)
PREREQUISITES:  Mystery of History® is meant to be used with multiple grade levels so this course will be for multiple levels.
Students will be able to log in and begin on Tuesday, January 14th.
Want to join us?  Spots are limited!  Sign Up Below: