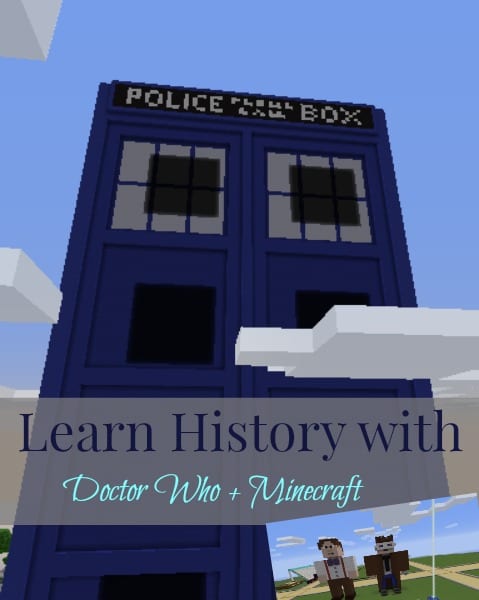 Calling all Whovians!  Do you have a love for both Doctor Who and Minecraft?  This is the class for you.  This is a 10 week self paced class with weekly assignments so that your students can work through the assignments on their own time.  SKrafty Whovians will also have a weekly live chat meetup on the server so they can play, build, and discuss their favorite Doctor.
What's to learn?  The Doctor is a world famous time traveler, and we will be featuring a different Doctor Who episode each week with a focus on the history in each.  Weekly lessons will include more in depth study of the history subject.  These will not focus on a specific time period, but will be using random Doctor Who Episodes.  For example, we will cover Van Gogh, Queen Elizabeth, the Titanic etc.
Following are the details:
WHEN :
Class will be available anytime.
COST:
Self Paced Class – $10.99
Note:  Students will receive weekly instructions via email and go through the course on their own time.  Moderators will be available in game to field questions and help as needed.
WHERE: SKrafty Homeschool Minecraft Server (Not playing on SKrafty yet?  Get Whitelisted here)
WHAT:  We will have the following:
Weekly Self-Paced Assignments.  This will included out of game studies as well as in game activities.
Enrichment activities will include recreating scenes and details from the series inside Minecraft.
Weekly Live Meetup on Thursdays at 3pm CST.  This will be informal and either on TeamSpeak or Adobe Connect.
Bi-Weekly Quiz to test progress (optional)
Requirements:
Premium Minecraft Account and Minecraft for PC or MAC
Minecraft account must be whitelisted on SKrafty Homeschool Minecraft Server.  Get Whitelisted here.
Ability to view Doctor Who episodes on Netflix, DVD, Amazon, etc.
There are no specific age requirements, but students should be able to follow directions and know how to maneuver around in Minecraft.   Younger students will be able to participate as well with parent's help.
Want to join us?  Spots are limited!  Sign Up Below: