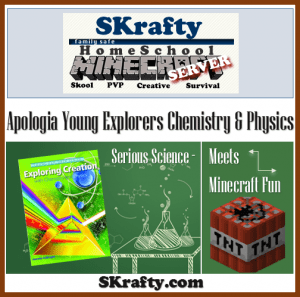 It's science time! Please join us for a fun science class while we learn all about Chemistry and Physics at an elementary level.
This course will be a Full Year class, and the text book we will be using is Exploring Creation with Chemistry and Physics (Young Explorer Series)
.  You can see pages of the book and check out the Table of Contents here.
Following are the details:
WHEN :
Self Paced class can be started at any time, and student can go through the class at their own pace.
Price: $15.99  (Students will be able to work through the assignments at their own pace.  )  
WHERE: SKrafty Homeschool Minecraft Server (Not playing on SKrafty yet?  Get Whitelisted here)
WHAT:
Class will include the following:
Weekly lesson and textbook assignments.
Weekly Minecraft Project Assignments.  Students will have a week to complete assignments.
bi-weekly Quiz to test progress
Requirements and Prerequisites:
Want to join us?  Spots are limited!  Sign Up Below: