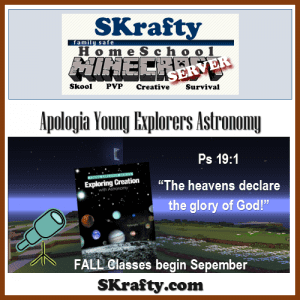 It's science time! Please join us for a 2 semester science class while we learn all about Astronomy at an elementary level.
This course is a Full Year class, and the text book we will be using is Exploring Creation with Astronomy (Young Explorer Series)
.  You can see pages of the book and check out the Table of Contents here.
Following are the details:
WHEN :
This class is available now.  Self Paced classes can be started at any time, and student can go through the class at their own pace.
Need to start later or miss a few weeks?  No problem!  Just pick up where you left off.
Price: $15.99  (Students will be able to work through the assignments at their own pace.  )  
WHERE: SKrafty Homeschool Minecraft Server (Not playing on SKrafty yet?  Get Whitelisted here)
WHAT:
Class will include the following:
Weekly lesson and textbook assignments.
Weekly Minecraft Project Assignments.  Students will have a week to complete assignments.
Weekly Quiz to test progress
Requirements and Prerequisites:
Want to join us?  Sign Up Below: